GET TO KNOW OUR V.P. "DUSTY"
(Continue from the Spring Issue)
<![if !vml]>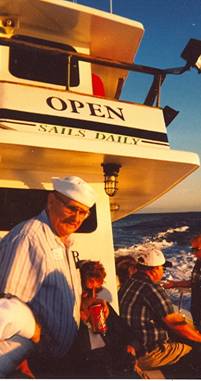 <![endif]>It was on one of the times that I was on liberty that I went to the Beebe Hospital in Lewes, Delaware to visit a Coast Guardsman who was in the hospital. He bad spent 30 years in the Lighthouse service, and United States Coast Guard serving on the Five Fathom Lightship, Overfalls Lightship, and· Brandywine Shoal Lighthouse and various other assignments in the Lighthouse service and the Coast Guard. Upon entering the Beebe Hospital the lady at the switchboard in the communications gave me the directions to the room of Charles Plummer. Upon leaving the hospital I thanked her for giving me the directions to his room. and that he was feeling better. That is when she informed me that Charles Plummer was her father
To make a long story short we have been married forty eight years. We have a daughter Cheryl who is a registered nurse. She has three children. Melissa is in college and wants to go into the field of teaching. Amy, the last time I heard, was thinking of going into real estate. Charlie wants to be an architect. I wish them all well.
Getting back to the Coast Guard.
After that I was assigned to be a Yeoman at the office at Cape May, New Jersey.  After that I was assigned to be a Yeoman at the office at the Lewes Coast Guard Station. Lewes, Delaware. Among several of my duties Yeoman, Radio operator in the tower, truck driver, and they even had me cook for everyone when the cook was sick, I was assigned that whenever a sick, ill, inured. or deceased person was taken off of a ship coming into the Delaware Bay from the Atlantic Ocean, and brought ashore by the Pilot Boat it was my duty to meet the Pilot Boat at the Lewes, Delaware dock, and go with the ambulance and patient to the Beebe Hospital Lewes, Delaware and meet the United States Customs Agent Mildred Austin and turn the person over to her, and she would do her paper work and contact the family, and make arrangements and see that the person and or the body was sent home. I observed my second autopsy at the Beebe Hospital Lewes, Delaware of a man who died of yellow fever and bad been on a ship that had been in the Iron Curtin countries and had not had his shots. One man was brought in off one of the ships, and all of the fingers on one of his bands bad been cut off when a hatch cover broke loose during a storm. On several occasions sailors would be brought in to see a doctor and then return to their ship.
I completed my four years active duty at the Lewes Coast guard station in Lewes, Delaware.
I completed my two years inactive at Fort McHenry, in Baltimore, Maryland As you recall that is where Francis Scott Key wrote the Star Spangled Banner, our National Anthem, in 1814 when the British bombarded Fort McHenry during the battle of Baltimore, MD.
While living at Baltimore, Maryland I saw in the Baltimore newspaper that they were hiring police officers at the Milford Police Department Milford, DE. I put in my application and was hired on May 26, 1965 and I have been employed there every since. I have served my country 49 years in home land security.
My wife Eve and I enjoy being charter members of the Delaware Bay Lighthouse Keepers and Friends Association.
We especially enjoy going on the boat rides each summer when we take people to see the lighthouses of the Delaware Bay and teach them about the lighthouses and their keepers, as the mission of our organization is to preserve the history of the Delaware Bay and River Lighthouses, Lightships. and their Keepers.
The very best thing that happened to me while in the United States Coast Guard is that I met my wife, Eve and our marriage will last a lifetime.