<![if !vml]>

<![endif]>DBLHKFA
Volunteers at
Hereford for
The 2008
Lighthouse Challenge
<![if !vml]>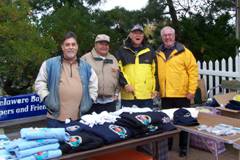 <![endif]>
President Angelo, Tony Giletto, Rod Mulligan
And Bull Geilfuss. Frozen team of salesmen.
<![if !vml]>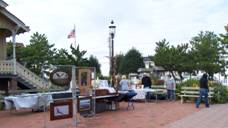 <![endif]>
Other Lighthouse Outreach groups doing their thing. Ludlum and Hereford Lighthouse Assoc.
<![if !vml]>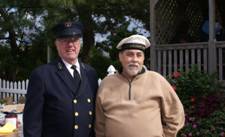 <![endif]>
President Angelo, and Bull Geilfuss at "Parade Rest", Bill in his complete Keeper uniform.
<![if !vml]>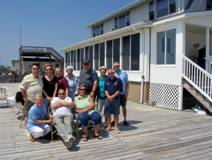 <![endif]>
In warmer times! Your Board of Director's in action on the "Boardwalk" in sunny Fortescue.
<![if !vml]><![endif]>
Onboard
     The
Lightship
By DBLHKFA
Member
Fritz Heipertz
Fritz received his orders from the USCG in 1967. To work and live on the Lightship "Delaware" Unaware of what was ahead.
His first glimpse of the dangerous work that became his daily routine unfolded as he approached the lightship from the CG cutter that transported him to the "Delaware" He had to climb aboard the "Jacobs Ladder" making sure he wasn't crushed between the two ships as he reached the safety of the lightship's deck.
His initiation, as the ship rolled and pitched during heavy weather was sea sickness and exhaustion along with his 8 shipmates. The hourly tasks were completed every hour regardless. Every 4 hours the weather observations had to be taken and logged.
Fritz was scheduled to work two weeks on and one week off, unless the cutter could not make its weekly trip. Winter storms created havoc. Storms made life extremely difficult. Huge waves tossed the ship around and when the fog rolled in the fog horn alerted ships of the dangers of the sea and the lightships position. The fog horn was so loud the crew could fell the deep vibrations in their chests. 
Life was hard on the lightship but days of calm seas made it a surreal experience. Fifty foot whales would surface, intrigued by the sound of the generators, dolphins would playfully jump. Memories of clear night skies filled with millions of stars will always find a place in my heart along with the Coast Guard.
(Fritz's complete story and pictures can be found at http://www.livinglbi.com/)
THANKS TO: Member Joanne Bolton for supplying this article to the "Bay Run"
"Event Statistics"
From the NJLHS regarding the 2008 Lighthouse Challenge
Participation: 27,901 Visitors- Average visitors/sites 2,146 24% increase over 2007
2,229 Starters 5% decrease over 2007
1,646 from NJ – 547 from 20 States & D.C.
9 from 3 countries…1,657 Finishers
163 Duel Challengers  up 10% from 2007
81 Triple Challengers, up  25%