<![if !vml]>

<![endif]><![if !mso]>

<![endif]>

<![if !vml]><![endif]>

<![if !mso]>

<![endif]><![if !mso & !vml]> <![endif]><![if !vml]>

<![endif]>From
 

The
 

Log

of the

Vice President

Gaylord F.(Dusty) Pierce

We certainly hope you all had great holidays and would like to wish everyone a happy, healthy 2009.  Where has the time gone?  Our Annual Banquet/Reunion meeting was held at the Sea Isle City Yacht Club on October 26, 2008.  I'd like to thank Genevieve Doris from the Yacht Club and our Programs Chairperson, Peggy Stapleford for arranging this meeting.  Our speaker was author, Fred Miller, who gave an interesting and informative presentation on the lighthouses and life saving stations of Atlantic and Cape May Counties.  Many of the books from the estate of Carole Reily were auctioned off in a silent auction. 

Our two "Volunteers of the Year," were each presented with a plaque and thanked for their assistance throughout the year: Tony Giletto for his help and assistance for the Scholarship Program, as a Board of Director Member and Chairman of the Ways and Means Committee and Jim Moffatt for his outstanding work on the Newsletters.  Our raffle included a painting of Ship John Shoals Lighthouse which was donated by Ray Miller and won by Bill Geilfuss.  I won the model of the Overfalls Lightship and the nautical gift basket was won by Bruce Middleton.  Thanks to all who participated.  Also, thanks to all who donated door prizes.

Our Winter Meeting will be held January 24 in Paulsboro, NJ. Brett Franks from Finns Point Lighthouse will be our speaker. There will be input and exchange of ideas by our members and members of the Tinicum Rear Range Lighthouse Society.  The Spring Meeting will be held on April 4 at the Biden Center in Delaware where Wayne Kirkland will give a presentation on How Lighthouses Played a Part in 18th and 19th Century Ocean Travel between the United States and Europe.  We'll also receive an update on the status of the Overfalls Lightship which is currently in dry dock in Norfolk, VA.

Before you know it, we will be back on our Lighthouse Cruises. The dates had been set/suggested by your Board of Directors at their January meeting. We have just received approval of our dates form Capt Rochetti owner of the Bonanza II ( See schedule below Pres Angelo's Beam Message pg 2).

<![if !vml]>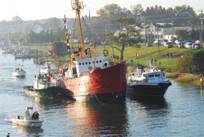 <![endif]>Overfalls
Leaves
Lewis
Story courtesy of Henry J. Evans, Jr.
Cape Gazette- Edition Oct. 17/20 2008
Photo courtesy Ron MacArthur
Lightship graced with smooth sailing under picture perfect skies and glassy waters, Lewes' historic Lightship Overfalls was smoothly nudged by a tugboat from its 35 year resting spot to begin a two day voyage to Norfolk, VA shipyard for hull repairs. The trip began just after day break October 14th 2008 as hundreds  looked on from Lewes-Rehobeth Canal vantage points, cheering  The 70 year old vessel and its 11 man crew. Wilmington Tug and Delaware Bay Launch Service donated use of company vessels and crews to the Overfalls Maritime Museum Foundation only to pay for the fuel used by the tugs to make the trip and return to Wilmington Early Thursday morning the ship was secured in the boatyard. After a 48 hour 275 mile trip to Colonia Shipyards. The crew kept a constant watch for leaks, she proved relatively leak tight. President Bob Humes of the Overfalls Museum Foundation reflected on the entire volunteer base, how incredibly talented & dedicated support. He also praised the support from local, state &federal delegations. He summed it up saying it took a huge amount time and diverse capabilities to make this happen, considering all of the many road blocks encountered. The repairs should take about two months
(Editors note) We will follow the progress of the Overfall Lightship in future Bay Run's   
GREAT CRUISE NEWS
Members only Cruise!!
Sunday, July 19th leaves 4:30 PM
ANNUAL PICNIC-MEETING
Cruise (Alternate Date July 26th)
Complete details in the Spring 2009 "Bay Run"
NEW MEMBERS
Sharon Hewitt, Membership Chair
MEMBERSHIP UPDATE
Single  62   Family 125  Total 307