We are all familiar now with our official Logo.    Ship John Shoal located at the mouth of the    Cohansey River. But how much do we know    about the real Ship John, or the lighthouse that   was chosen by our late president Carole F. Reilly   as our logo?   Greenwich was designated as a Port   of Entry in the late 17th century and the wharf   island from the Delaware Bay was a busy place.  That was the destination of the "John" when a combination of circumstances left her trapped in   ice just off shore. The vessel was built in Newbury-   port, Mass. in 1792. She was registered as 490 tons,    112 ' 10" long, 31' 6" in breadth, 15' 9" in depth.   The owner was registered as Benjamin Joy, Boston,   and the master was Robert Folger, of Nantucket.   In the early winter of 1797, the ship, freighted from   Germany, left Boston Harbor carrying cargo for   merchant Joseph Anthony, of Philadelphia but   because it had previously carried cargo for another   merchant, Henry Drinker, a message from Capt.    Folger was carried to Drinker instead. The diary of Drinker's wife Elizabeth, records some of the information about the fate of the ship. Folger's message said   that the vessel was "in great distress on account of    the ice the ship was nearly cut in pieces and the crew,    which are near a hundred, in miserable condition."   According to "The History of the Name Ship John"   published by the Cumberland County Historical, Society an accurate account of the wreck was   obtained by 4 survivors. They said the ship spotted    a sloop in distress and anchored off in order to help.   After losing her anchor and cable, the ship was forced    by ice into a shoal , called "Dunk's Bar." Ice filled   the deck and cut into her nearly filling her with water.   According to a Dec. 29, 1797 issue of "The Gazette"   Capt Folger and 20 others were still aboard.   Attempts were made on Dec. 27 to rescue those left    on board but failed. The attempt was repeated on Dec. 29.  On Dec. 30 Elizabeth Drinker wrote in her diary that she had received word that the captain and his men were brought to shore.  The original manifest showed that the ship carried cordage,  pipes, Geneve gin, linen, Swedish iron, Russian sheeting,  Ravens-duck sail cloth, copper sheets, copper nails, 66 boxes   of window glass, hollow glass, and German toys, including 6000   dolls. Although much of the cargo was damaged, a lot of it was saved.  Of approximately 80 to 90 German passengers, about 24 reached the   New Jersey shore on the night of Dec 24, indicating some had perished.  Others were saved and brought to Greenwich Landing, to the property  of John Sheppard, Jr. Sheppard notified Drinker that they would have   to pay 17 guineas each for their passage and clothing and they would   need a place of shelter and food.  The passengers were "redemtioners" who came with their families.
They had placed themselves in the power of the sea captain or merchant who  had brought them here. When they arrived if they were not redeemed by a friend or relative, the captain was authorized to sell them. If they were   sold, it generally meant seven years as an indentured servant.  The contracts of these individuals were aboard the ship and had not been recovered, so many refused to honor their contracts and ran off. They had arrived at Coopers Ferry, on their way to Philadelphia on Dec 29. and the   contracts did not arrive until Jan. 10.  Benjamin Joy washed his hands of the lot and refused further communications.  Those who unloaded the cargo also helped themselves, in many cases, and it was suggested that Capt. Folger should prosecute those who stole from the cargo if it could be proved. 
(To be continued in the Spring "Bay Run")      
"
<![if !vml]>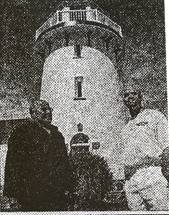 <![endif]>When is a
Lighthouse
NOT a
Lighthouse?
Restored Brigantine Lighthouse once again a Beacon of Pride.
The lighthouse was built in 1926 as a tourist attraction by the Island Developer. It was used a welcome center for Brigantine. Never a way to warn ships away. It was definitely a way to bring traffic to the island and its lighthouse.
Since then the lighthouse has become a piece of Brigantine. Now with a new look and a new life. Including an inviting light on top
Membership Notice
Membership Dues statements are being mailed. Fiscal Year starts March 1, 2009.
Do not forget we are electing two new board members, if interested contract Sharon Hewitt.