MAXINE MULLIGAN
PROFILE OF THE TREASURER
<![if !vml]>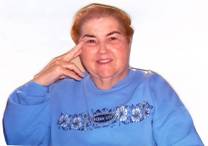 <![endif]>I am a graduate of Vineland High School; before graduating, I was interviewed and hired for the head secretarial position at the newly erected Veterans Memorial School in Vineland.  From there I transferred to Landis Middle School and ended my secretarial career in 1980, 4 years after opening the new Vineland High School North.  During my last ten years as an "Educational Secretary" I attended Glassboro State College (Rowan) part time majoring in secondary school English and finally graduated in 1980 with a Bachelor of Arts Degree.  While teaching at Vineland High School North, I continued on with my education, graduating with a Master of Arts Degree in 1988.  Highlights of my teaching career include being honored in 1986 by the Governor of NJ as Teacher of the Year and being nominated by my students in 1992, 1996 and 1998 for inclusion in Who's Who Among American Teachers.  I am currently writing a book regarding my teaching experiences. 
My parents had a summer home in Cape May; that is where I met my husband, Rod, who was a member of the coast guard and stationed in Cape May.  We have one son, Kelly, who lives in Richmond, VA with his family; he is also our Web Master.  About 10 years ago, I attended a DBLHKFA meeting with Rod and the secretary was not there so I was asked to take notes—and, as they say, "the rest is history".  Two years later, my position changed from secretary to treasurer; I have been in charge of the funds for the past 8 years.  I am also the cruise coordinator and help with the Newsletter.
In my "spare time," I enjoy sports (I bowl with a league), working with the Vineland High School All-Sports Booster Club, being a member of the VHS Historical Committee, music (I play the piano and organ), reading, traveling, shopping and volunteering at a local thrift shop.
Kelly's Information 
from our Web Site
For the months of Oct., Nov., Dec. 2008 we had approximately 3,000 visits Top 5 Countries were- United States Netherlands, Sweden, Great Britain and Israel.  Top 5 Pages visited were: Home Page,  Lights, Calendar, How to Join and Links  We were searched mostly on Google and  people clicked on the link from the  Lighthousefriends.com Web Site more than  any other site.  Our site showed up most when the phrase   "Delaware Bay Lighthouses" was searched   for.  An estimated 200 visitors added our site   to their "Favorites" list.  THANKS KELLY MULLIGAN  DBLHKFA Web Master for this "Great"  follow up information for the "Bay Run"
Re-Run of large Pictures of
This years Picnic at
Hereford Inlet Lighthouse
<![if !vml]>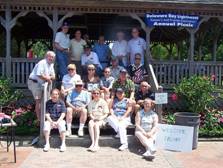 <![endif]>
Members attending for the Group photo
<![if !vml]>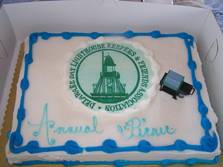 <![endif]>
The "Annual Picnic" cake with our logo
<![if !vml]>
<![endif]>
In preparation for the Dedication Brick
for Carole F. Reily, Past President
<![if !vml]>
<![endif]>
Steve Murray and President Angelo Rigazio during the laying of the Memorial Brick in the Memorial Walkway at Hereford Gardens